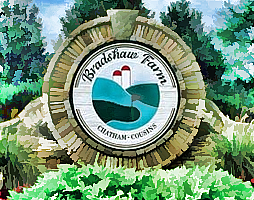 Bradshaw Farm is a golf course community in Cherokee County between Roswell and Canton. The neighborhood consists of 621 homes built around one of metro Atlanta's finest 27 hole golf courses. The Bradshaw Farm Neighborhood Association has over nineteen acres of common areas with two pool and tennis recreational locations with mandatory membership. The main recreational area has a two level clubhouse, a large pool with a water slide, six lighted tennis courts, a playground and basketball and volleyball courts. 2004 improvements have been added pool lighting, a second tennis pavilion and an expanded playground. The Golf Club is owned by American Golf and membership is optional.
The Association consists of numerous Committees to maintain and promote the many interests in a quality neighborhood. Some of the Committees are Clubhouse, Pool, Tennis, Social, Golf, Outreach, Neighborhood Watch and Communications. We have a large monthly newsletter, a website, a directory and a welcoming group. The business side is run by an experienced management company, a five member Board and focused Committees such as Architectural Review, Covenants Review and Maintenance.
Also within Bradshaw Farm are many activities and groups that ensure a community spirit not only in the neighborhood but in Cherokee County. The Bradshaw Farm Women's Club donates thousands of dollars to local charities each year and sponsors several fund raising events. There are several ALTA tennis teams at various skill levels. There is a county sanctioned swim team involving over 100 young folks. There are plenty of activities and interest groups to choose from for all age groups. The neighborhood has groups for book club, bridge, Bible study, couples golf, men & ladies golf, bunco parties, wine tasting, ladies luncheons, holiday socials and other interests.
Bradshaw Farm is fortunate to be built in a beautiful area of the state with rolling foothills near lakes, rivers and the mountains. Just outside the neighborhood are three of the counties best schools from kindergarten to twelfth grade as well as a library. It is a short drive to major shopping areas and medical facilities. Cherokee County's cost of living is a value and offers many advantages for its citizens. One example is a property tax break for those over age 62. These amenities and many others make Bradshaw Farm an ideal balance for our desire of an excellent quality of life.